FEMININE MAGNETISM
5 VIDEO BUNDLE
Beautiful soul,
I am honored that you have landed here in this space. It is with the deepest gratitude that I invite you to take a deep breath, place a hand over your heart, a hand over your belly, and let these words land in your body.
Before you go any further I want you to know that you are not here by accident, that you have been guided here for a reason, and that this may very well be the exact medicine you've been asking for.
W E L C O M E .
The journey starts with your healing.
It has to start with returning back to yourself.
Back to wholeness.
Back to love.
Back to worthiness, and total & complete self acceptance. 
The journey back isn't always comfortable...in fact, it is confronting AF.
To see and take ownership of all the ways you've molded yourself to fit someone else's idea of who you *should* be.
Everything you've layered on as protection and a false sense of identity to ensure that you are digestible.
The people pleasing.
Apologizing.
Dimming your voice & energy so you're not seen as (God forbid) too much.
Repression of your emotions.
Making yourself wrong for feeling all the things, all the time.
Striving to be seen as the good girl.
The care taker.
Locked in a pattern of asking everyone around you for advice instead of listening for the subtle rumbling of your own soul.
What I am saying is this: As women, we've been taught that in order to be loved and accepted, we must show up as a watered down version of ourselves, here for the sole purpose of serving others.
Oof.
It's a tough pill to swallow.
Allow the anger, the sadness, the grief to arise.
Because THAT is how we get to be fully expressed.
Raw.
Real.
Emotional.
In honor and celebration of what makes us a divine feminine being.
The chaos.
The emotions.
The sensuality.
The spontaneity.
The ebbs and flows. 
THIS IS OUR MAGIC.
And the truth is, when we are living in our embodied radiance, it can feel like too big of a force for anyone, man or woman, who is out of alignment with their sacred masculine or feminine .... cue everything that society and the patriarchy has taught us about what being a woman is SUPPOSED to look like.
Well my love, I am here to tell you that the most rebellious thing you can do in a world that raises little girls to become women that are at war with ourselves and each other, is to heal your relationship with the feminine.
I don't want you to be in the dark anymore, like I was. I want you to understand the feminine, to dance with her, relish in her, play with her, embrace and embody the wild chaos that makes you the unstoppable creatrix that you are.
I want you to relate to your masculine and feminine energies with precision, respect, and a mastery of how ALL of this will allow your business to feel the yummiest and most fun it's ever felt before.
Let's dive the eff in, babe.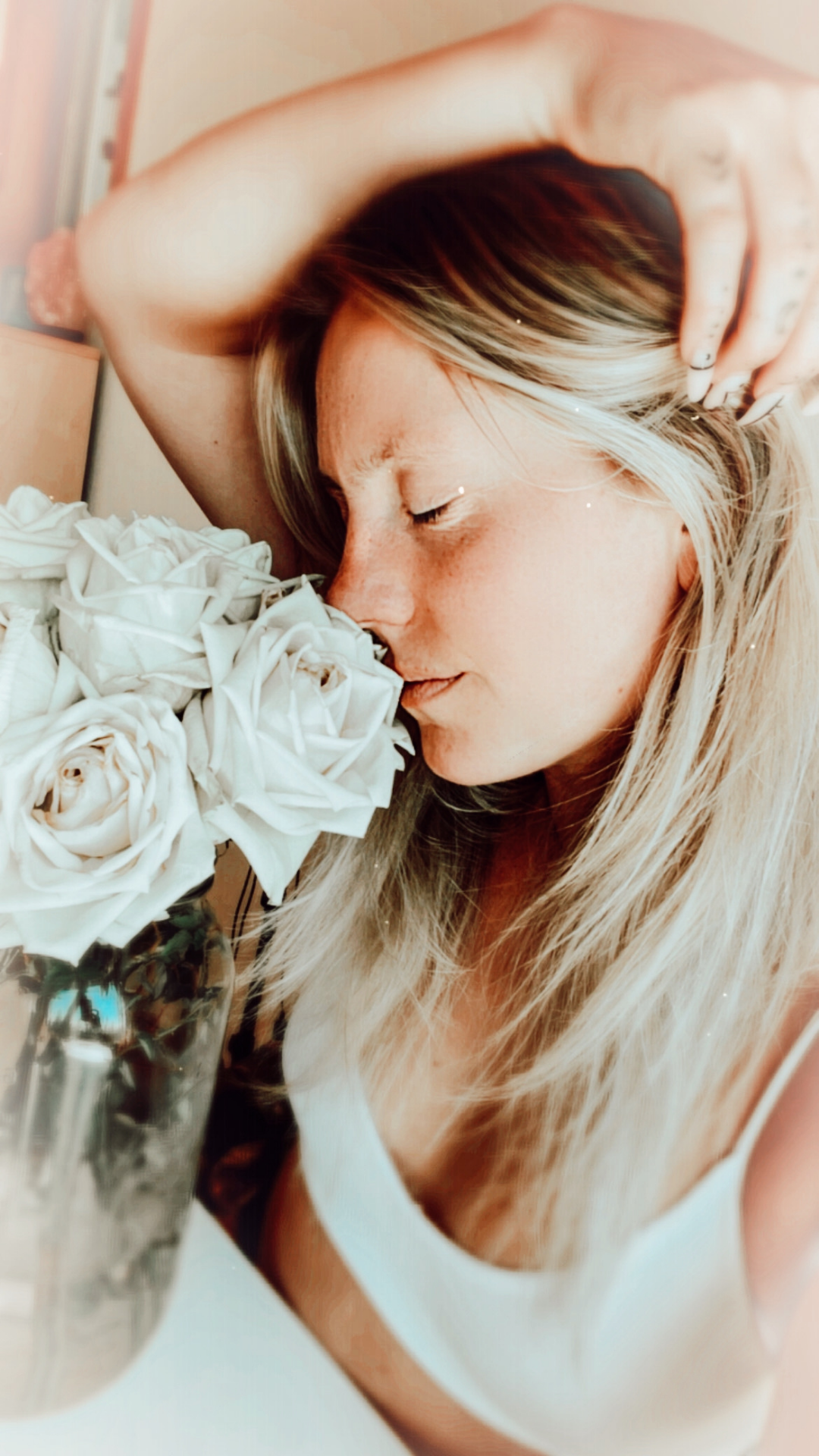 WHO IS THIS FOR?
This is for the woman who is at the beginning of her journey, or returning to, awakening her feminine.
For the woman who grew up relating her worthiness to achievement and DOING, who was taught that hustle and grind and do more to be and have more is the only way, and who is feeling burnt the fuck out in this cycle.
This is for the woman who is done showing up for everyone else before herself.
This is for the woman who feels a longing to connect with her body, her radiance, her sensuality and sexuality but has no idea where to start.
This is for the woman who deeply desires to return to self love, self trust, wholeness and worthiness, and is committed to healing anything standing in the way of that.
For or the woman who wants to raise her standards as a feminine being.
Who knows it's time to harness her personal power.
Who is ready to let the world meet her where she deserves to be met.
Ready to re-ignite her radiance.
This is for the woman who knows she is here to write a new story for her ancestors, for 7 generations to come, that our feminine magnetism is our superpower and can truly change the world.
*** THIS IS NOT JUST FOR BUSINESS OWNERS, THIS IS FOR ANY WOMAN READY TO TAKE BACK HER POWER, RADIANCE, AND MAGENTISM TO LIVE THE MOST PLEASURE FILLED AND ABUNDANT LIFE ***
WHAT YOU WILL LEARN:
What masculine and feminine energies are - both empowered and disempowered, and how they show up in your life.
What the mother wound is and how to begin healing this in your lineage to come into wholeness with your divine feminine.
How to raise your standards & set boundaries that allow you to live in sovereignty and personal power.
How to be with your emotions in an empowered way, how to learn from them, process them, and alchemize them into power.
What embodiment is, how to integrate it into your daily practices, and why it is the most powerful tool in your tool kit.
How to tap into your own sacred sensuality to open up new realms of receiving, pleasure, and abundance.
How to understand, heal, honor, embrace, and express your own divine feminine so that you can live life FULLY turned on and in love with yourself.
.... and truly, so much more.
WHAT'S INCLUDED
Over 6 HOURS of trainings, workshops, masterclasses, and embodiment practices.
Along with integration practices, affirmations, and journal exercises.
Lifetime access.
Go at your own pace.
Re-watch as many times as you desire.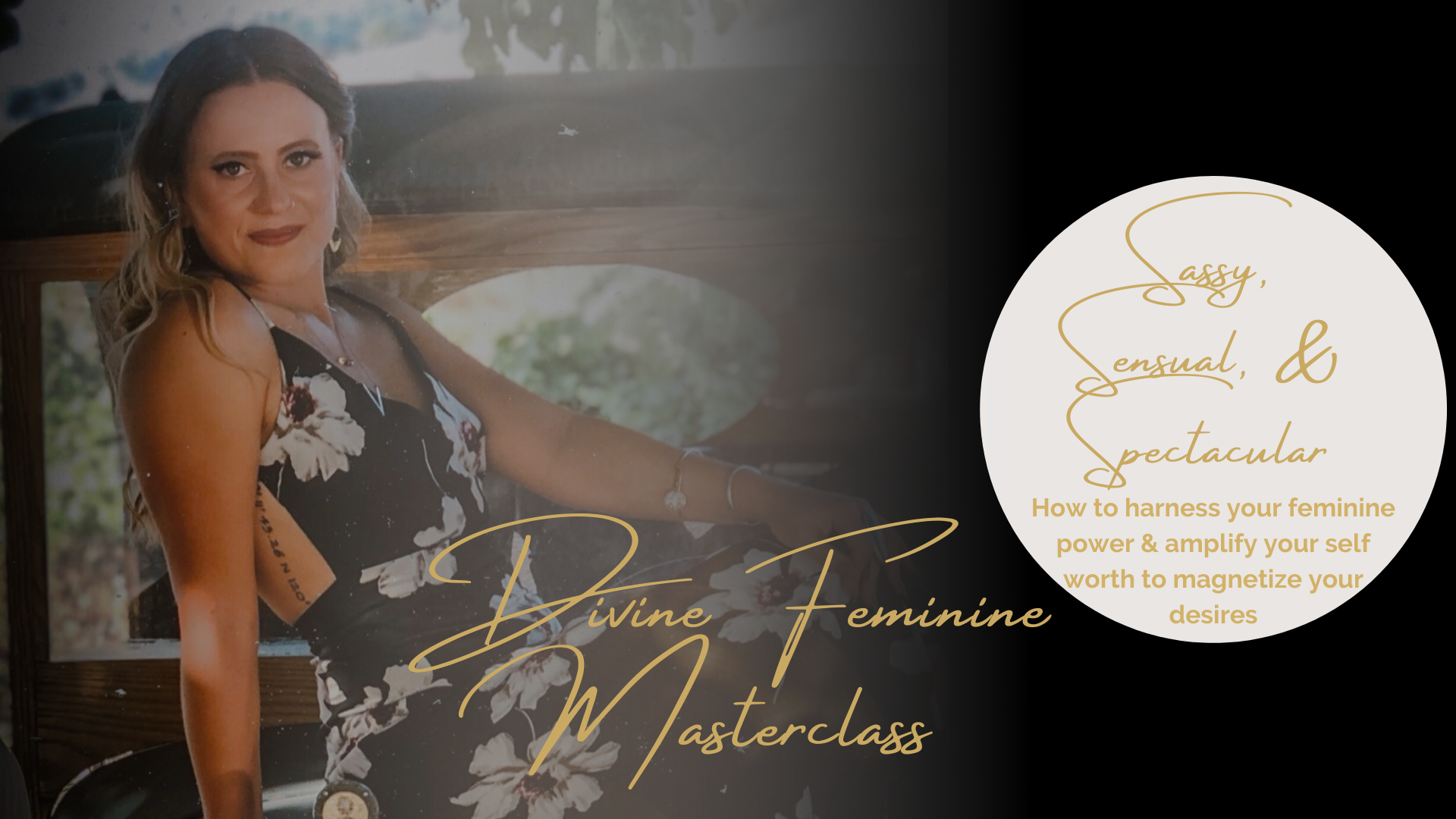 Sassy, Sensual & Spectacular
How to harness your feminine power & amplify your self worth to magnetize your desires.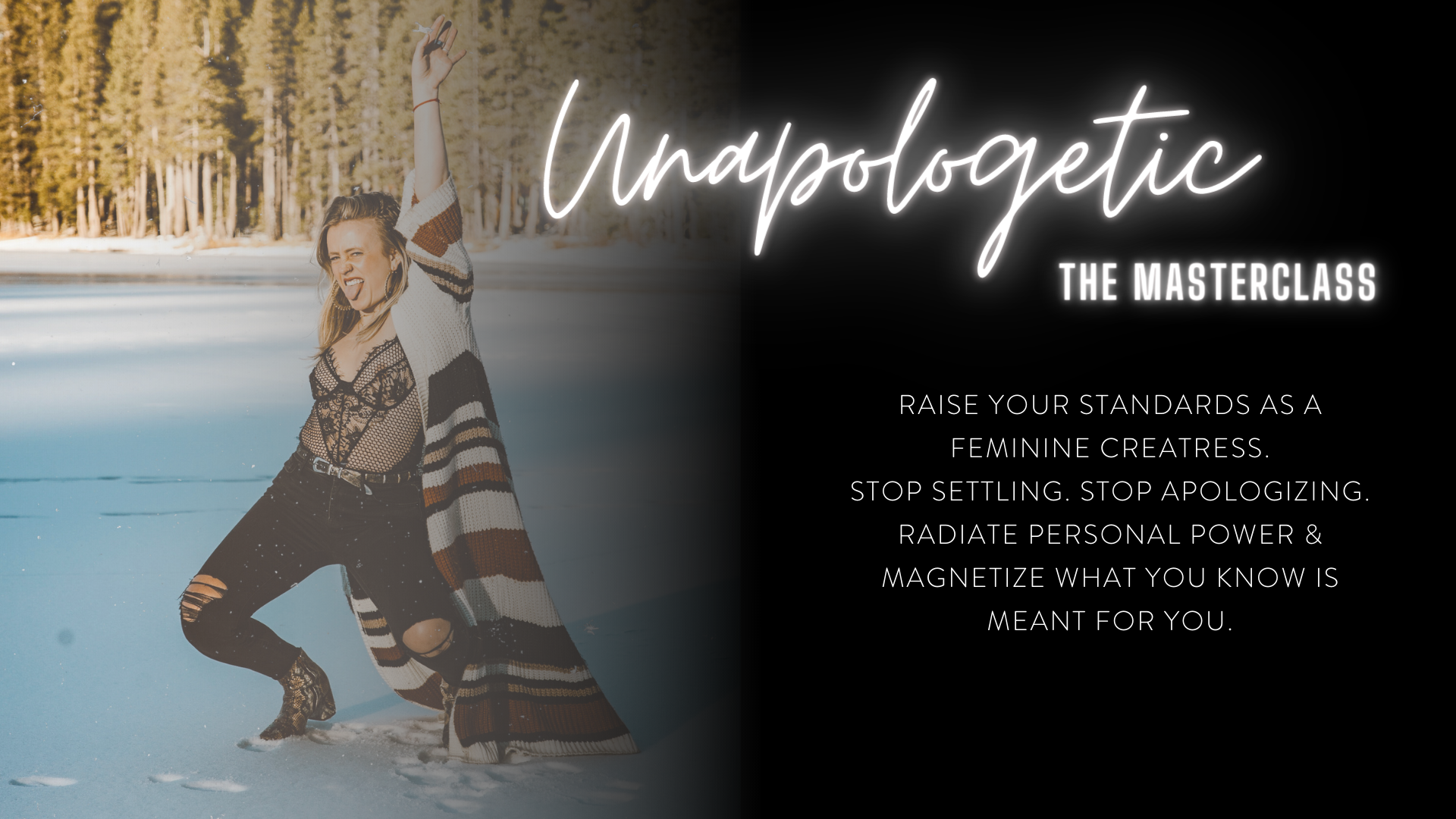 Unapologetic
Raise your standards as a Feminine Creatress.
Stop settling. Stop apologizing.
Radiate personal power & magnetize what you KNOW is meant for you.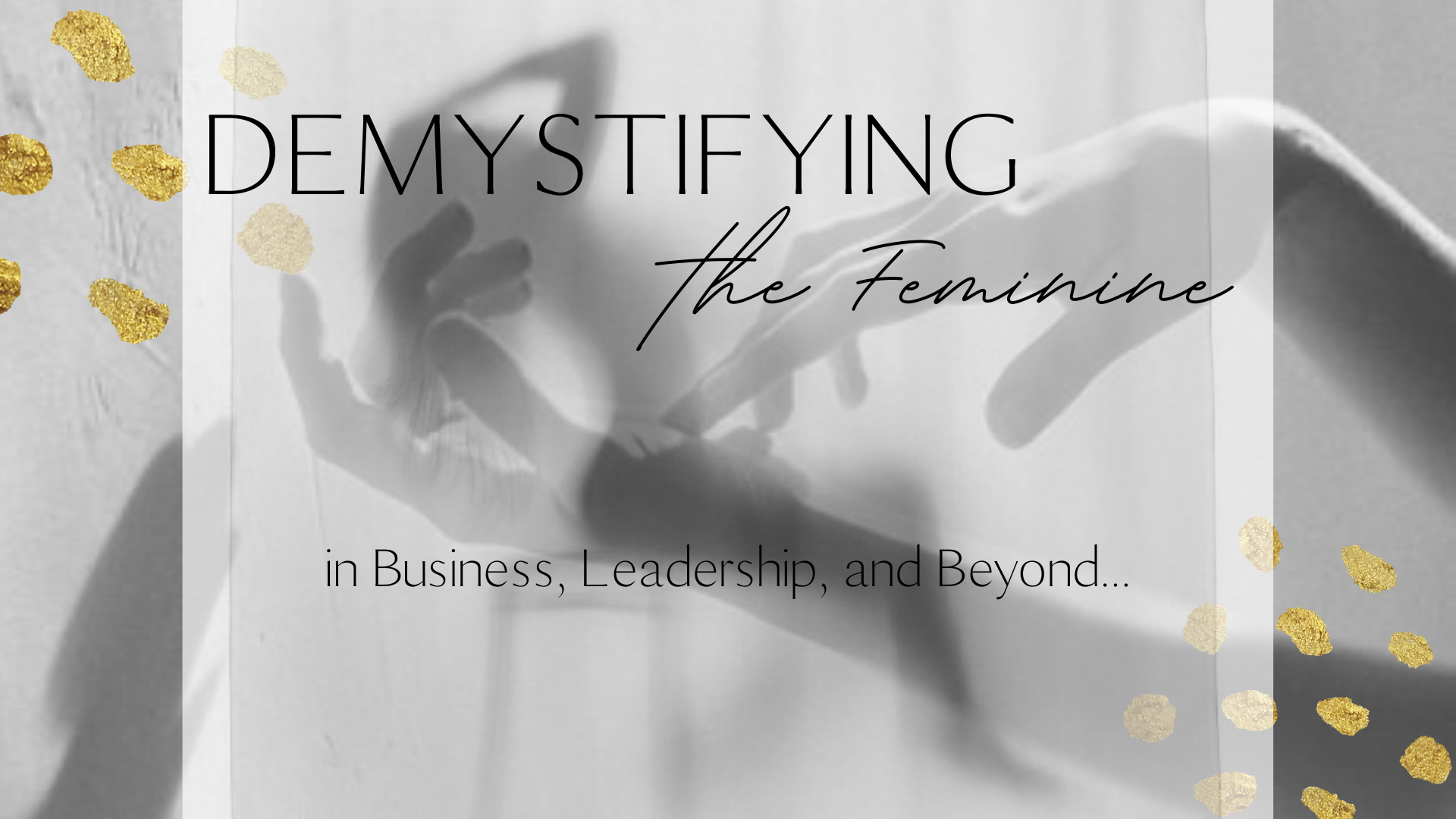 Demystifying the Feminine
Uncover the mystery & magnetism of the role feminine energy plays in business, leadership, and beyond.
Shadow Alchemy
Honoring and Expressing Your Feminine Chaos. Alchemize your shadow into power.
Workshop + Shadow Alchemy Embodiment Practice.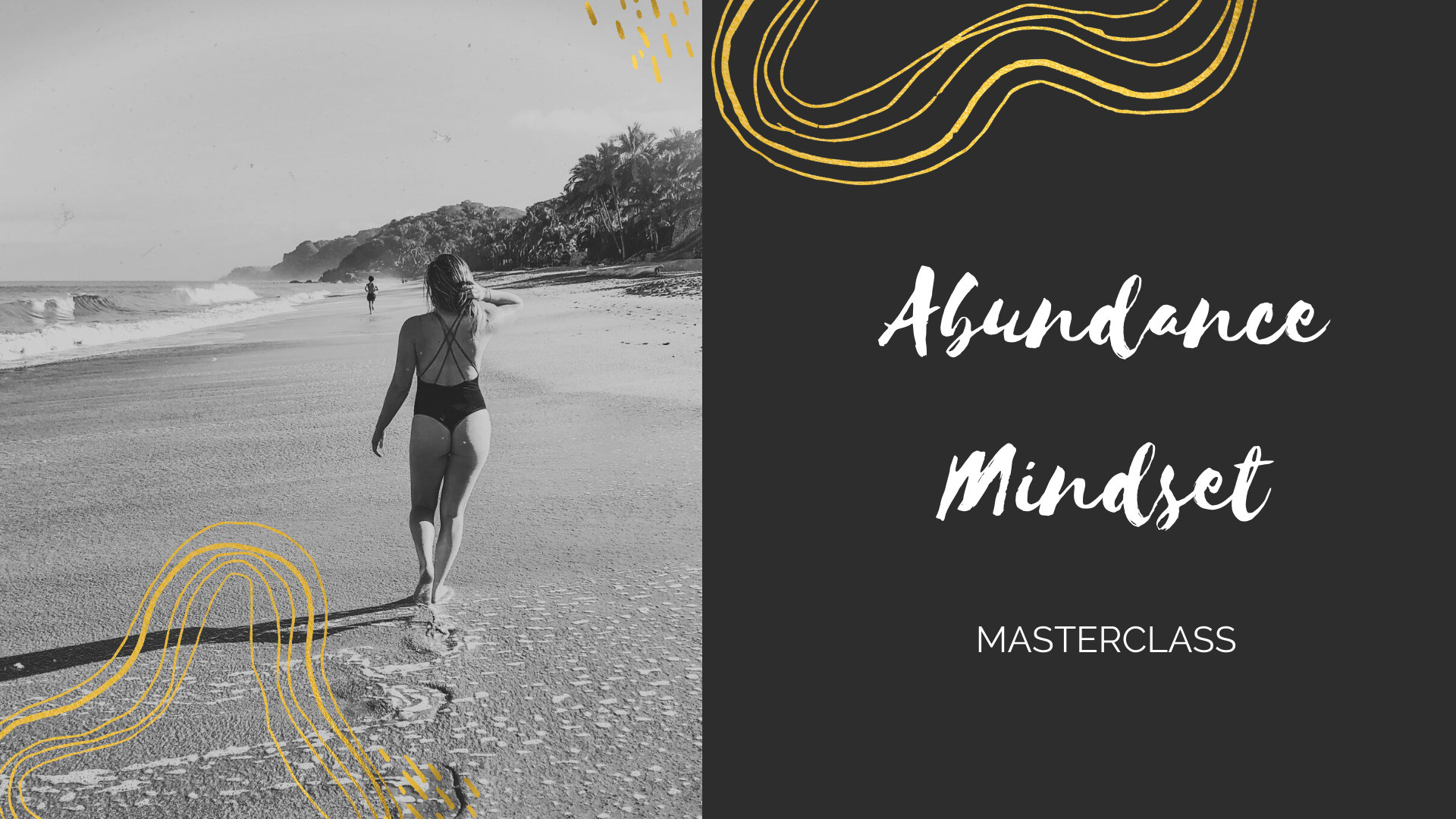 BONUS: Abundance Mindset Masterclass
Shift limiting beliefs and learn to reprogram your mind in order to create a new belief system that opens you up to receiving more abundance & pleasure than ever before.
Sassy, Sensual & Spectacular
I created this masterclass as a celebration of my first year as a business coach. From having two $15k+ launches, multiple sold out programs, working with over 50 AMAZING clients, making more money in a month (a few times) than ever before in my life, to the inner journey of rediscovering my divine feminine power and self worth in a MASSIVE way, it was a magical, crazy roller coaster. 
What contributed to my success most though, is not what you may think. It wasn't finding the perfect launch strategy, creating perfect content for social media, or hustling and working crazy hours and doing all the things.
It was remembering my worth, igniting my feminine power, and practicing unconditional self acceptance and belief in myself. This is what changed everything. This ownership of ALL parts of me, the sassy, the sensual, the spectacular, allowed me to magnetize my biggest months ever, dreamy soul mate clients, divinely aligned opportunities like teaching workshops at a retreat in Guatemala, and so much more. 
In this masterclass I will share a bit about my journey of my first year in business, and then dive into how YOU can harness your feminine power and amplify your self worth to magnetize all that you desire.
This ain't your average business masterclass. In fact, you'll still get SO much out of this even if you don't have a business. Get ready for a massive celebration of exactly who you are, and how turning up the volume on that is the key to manifesting whatever it is you want. 
Unapologetic
When you apologize for who you are, how you are, what you want, how you show up, your energy, and your presence, you're basically saying that you don't believe you're enough. That you're not worthy of being seen or heard.
When you tolerate less than what you deserve, you continue to allow the world to respond to you with less than what you deserve.
And then you wonder why your relationships, bank account, business, and life don't look the way you want them to.
It's time to take ownership, take responsibility, take your power back, stop apologizing, and show up for what you desire and what you deserve. It's time to rise to meet what you are truly capable of and meant to have in this life.
It's the shift from demanding what you want with little girl energy and throwing a temper tantrum when you don't get what you want, into declaring what you want with divine feminine energy, taking responsibility for how you're allowing what you don't want, and choosing the make the empowered shift in order to receive what you want.
Step into the rest of the year as your most empowered, self expressed, unapologetic self.
No more settling.
No more apologizing.
No more people pleasing.
It's not about chasing after your next level. It's about rising to let it meet you. 
It's time to show up as the badass, powerful bitch you are. THAT is when the world, the universe, your clients, and everyone around you responds to you in the way you desire. That is when you magnetize what you know is meant for you.
U N A P O L A G E T I C.
Demystifying the Feminine
In business, Leadership, and Beyond.
What role does feminine energy play in in your life? In your business?
What does it mean to be a feminine leader?
How does tapping in, healing, embracing, and embodying your feminine nature open you up to receive more pleasure, money and aligned clients than ever before?
How does unconsciously battling your inner feminine block you from receiving?
How does overcompensating in your masculine lead to burn out?
WTF even is masculine and feminine energy?
How can I leverage both to show up in harmony in my business?
How TF are these other women claiming that the less they do, the more they make?
These questions were a mystery to me for SO long. To be honest, I didn't even know to ask them. I didn't understand the feminine and I certainly had zero clue how it related to self worth, living in alignment, growing my business and making money. 
I didn't know that I was operating strictly in my masculine energy, and that I had been for years. I didn't know that it was leading to toxic cycles of shame, inconsistency, and burnout in my business...and all areas of my life.
I didn't know that I associated my worth with achievement, that this conditioning is rampant among our patriarchal society, and that it was causing me to constantly feel like I was never doing enough, making enough, or being enough. 
I didn't know that pleasure, fun, ease, rest, and play could be the most important pieces of my business and that I could actually attract more when I was prioritizing these frequencies. 
I didn't know how fucking good it feels to be connected to my feminine and how it would lead to healing my relationship with my body, my sexuality, my fear of being too much or not enough, or my inability to step fully into my power and be unapologetically self expressed. 
I had no fucking idea how much my entire world would change when I surrendered to healing my feminine and learned how to integrate this embodiment into my business, how I show up as a leader, in partnership, and in all other areas of my life. 
It is through discovery, I found the version of myself I never even had the courage to dream of.
Confident.
Radiant.
Self expressed.
Magnetic AF.
More abundant than ever.
Money flowing in with ease.
Soul mate clients flowing in with ease.
Trust in my emotions, ups and downs, ebbs and flows.
Self reverence for ALL that I am.
Freedom to incorporate fun, play, and pleasure as CORE values in my life and business.
More consistent in how I show up for myself and for my business.
Permission to do it all MY way.
No rules - just desire and pleasure as my guidance. 
And the magic continues to unfold...
Are you ready to unlock these codes? They're all inside, waiting for you. And on the other side is the most turned on, aligned, radiant, and magnetic version of you.
Shadow Alchemy
Honoring and Expressing Your Feminine Chaos.
As little girls, we are taught to be seen and not heard. That our emotions are not welcome. That we are either too much, or not enough. Called crazy, sensitive, bossy, bitchy.
This led to a lack of safety around feeling our emotions. Shame. Guilt. Repression.
This is where the shadow forms. It is made up of the parts of ourselves we believe to be wrong, and try to hide. Try to pretend aren't part of us.
I am here to tell you that it DOES NOT have to be this way.
In fact, it SHOULD NOT be this way.
Our emotions, our shadow, are here to teach us something. To be acknowledge, felt, experienced, expressed, and honored.
The divine feminine IS chaos, it's all the things, all the time. That is part of it's magic.
When we learn to actually celebrate our emotions and let them move through us, we are able to alchemize them into power, strength, love, and wholeness.
In this video you will receive a workshop that dives into ALL of this, followed by an extremely potent embodiment practice to learn how to actually alchemize your emotions, or your shadow, into sacred reverence and power.
This practice saves my life on the DAILY and I am so excited to share it with you.
BONUS: Abundance Mindset Masterclass
Abundance mindset is not just about money.
It's part of it, to be sure.
But when you focus solely on "more money, more money, more money", you are putting so much pressure on that ONE area of abundance.
And if the money isn't showing up, you feel lack. You DON'T feel abundant. Which perpetuates the feelings (and therefor reality) of lack.
So if you're calling in more money, I invite you to look at all the areas in your life that already are abundant.
(Love from your family, friends, animals, partner, days full of sunshine, fresh running water out of your tap and outside, wild flowers, fresh fruit and veggies, all the clothes in your closet, your clients, etc., etc.)
Tap into the experience of what it feels like to be abundant in those ways.
Be so so so so incredibly grateful and appreciative for the abundance that already exists in your life.
And then from THAT place, from THAT vibration, call in more.
"THANK YOU MORE PLEASE" is the vibe.
This is the vibration you manifest from, NOT from lack. Not from "I don't have enough, I need more."
IN THIS MASTERCLASS I COVER:
I will cover:
• abundance mindset vs lack mindset
• how to identify your money story
• re-writing your money story and beliefs around abundance
• how to make money your best friend
• how money / abundance mindset applies to running your business
AND you will receive a journal exercise and affirmations to use to re-establish your NEW belief system around wealth, abundance, money, and worthiness.
THE INVESTMENT:
Sassy, Sensual & Spectacular: $55 Value
Unapologetic: $55 Value
Demystifying the Feminine: $88 Value
Shadow Alchemy: $88 Value
Abundance Mindset Masterclass: $55 Value
Equaling over $300 ...
YOU PAY $55 TOTAL
(price goes up to $88 on 10/1)
This is the work I didnt know I needed....
And the work that has been hands down the most transformative in my life.
This is the work I return to again and again.
This is the work that brings me home to myself, to self love, self acceptance, worthiness, and STILL I am blown away by the shifts that I feel when I connect back with my own feminine magnetism.
This is just the tip of the iceberg, and I know you will be blown away by what you discover about yourself, and forever devoted to the path of becoming your most empowered, divine feminine self.
I am so, so excited for you.
All my love,
Ann-Britt.